Vajrasattva, is the main deity employed for purification by practitioners of all levels of tantra. Vajrasattva also goes by Dorje Sempa རྡོ་རྗེ་སེམས་དཔའ་, meaning "diamond being". Vajrasattva meditation is the primary cleansing practice recommended by Vajrayana Buddhism. It is also used to purify any broken vows made by a disciple to their tantric master. Going beyond personal practice, the Vajrasattva mantra is believed to purify karma, bring peace, and instigate enlightened activity on a wider scale.
Vajrasattva is white in color, symbolising his impeccable purity. He holds a vajra in his right hand, a weapon used as a ritual object, that symbolises the properties of a diamond (indestructibility), and a thunderbolt (irresistible force). In his left hand he holds a Ghanta, a bell of wisdom. The sound of the bell is thought to call to mind the empty nature of all things, helping us to become free of attachment and aversion, liberated from the painful cycle of birth and death. He is depicted in full lotus, or vajra, position. He wears the exquisite silk robes and jewelled ornaments of ancient Indian royalty.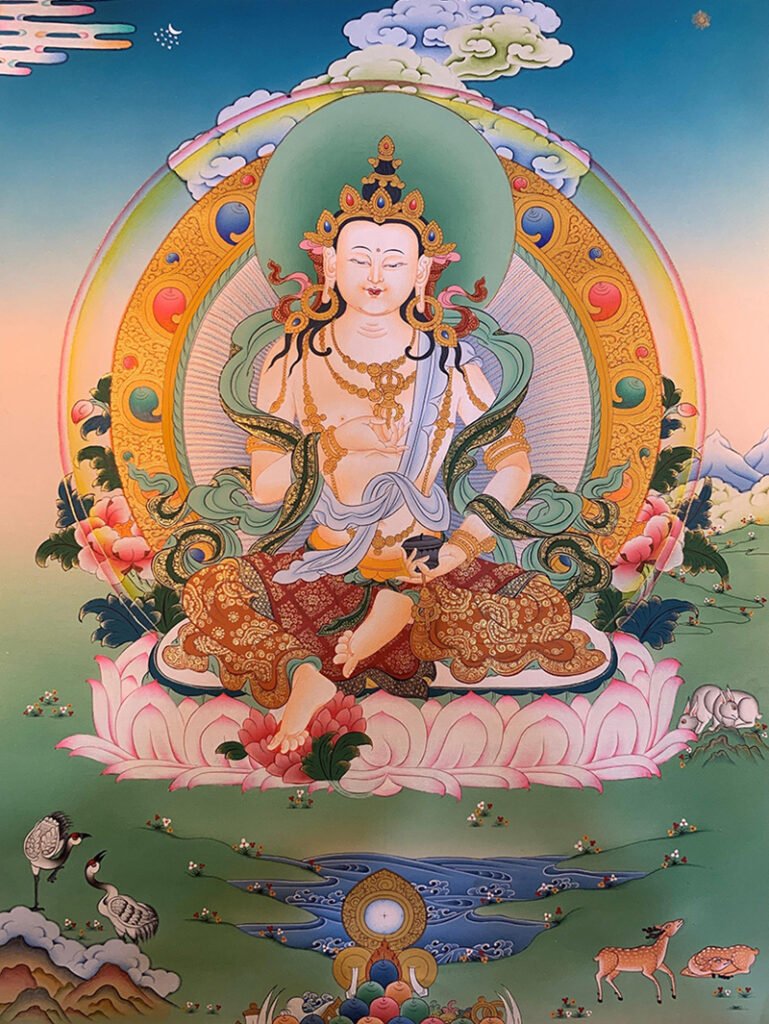 Vajarsattva commonly depicted with his consort Vajragarvi (aka Vajradhatu-ishvari, Tibetan: dorje nyema). She is sitting in his lap and her face is facing upward. Their legs entwined together while she is naked and holds a kapala (skullcup) in her left hand.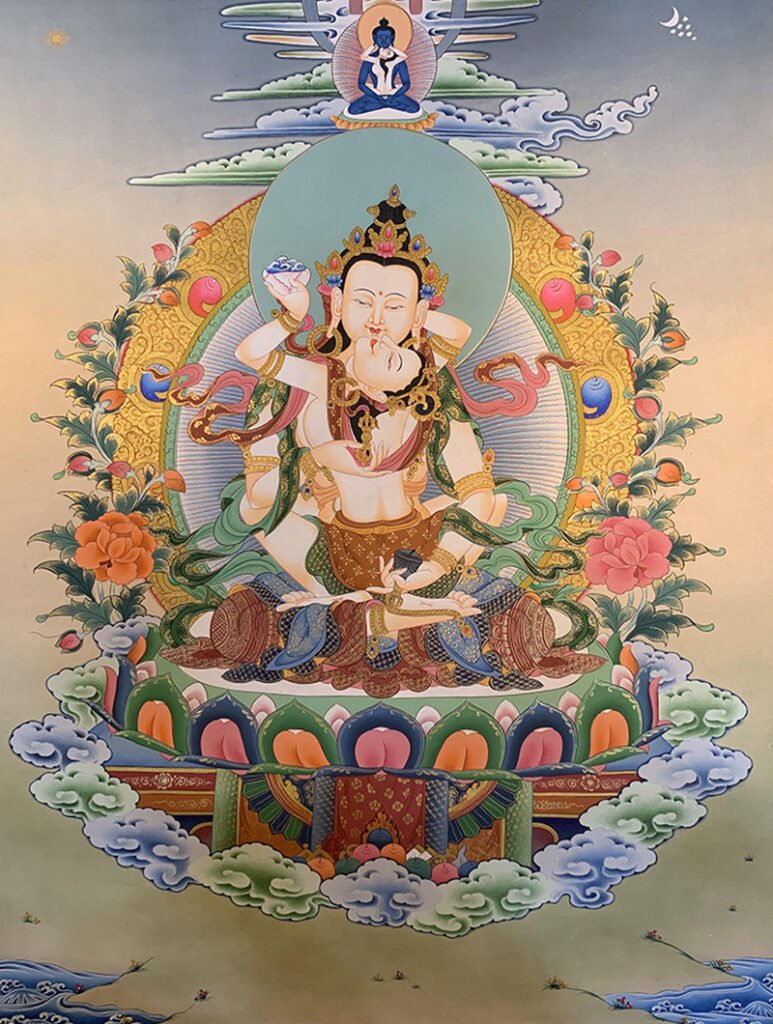 Vajrasattva is associated with the hundred syllable mantra, which is used for purification and is especially associated with funerals. The 100 syllable mantra for Varjrassattva in Tibetan and English:
༄༅། །ཨོཾ་བཛྲ་སཏྭ་ས་མ་ཡ། མ་ནུ་པཱ་ལ་ཡ། བཛྲ་སཏྭ་ཏྭེ་ནོ་པ་ཏིཥྛ། དྲྀ་ཌྷོ་མེ་བྷ་ཝ། སུ་ཏོཥྱོ་མེ་བྷ་ཝ། སུ་པོཥྱོ་མེ་བྷ་ཝ། ཨ་ནུ་རཀྟོ་མེ་བྷ་ཝ། སརྦ་སིདྡྷི་མྨེ་པྲ་ཡཙྪ། སརྦ་ཀརྨ་སུ་ཙ་མེ། ཙིཏྟཾ་ཤྲེ་ཡཿཀུ་རུ་ཧཱུྃ། ཧ་ཧ་ཧ་ཧ་ཧོཿབྷ་ག་ཝཱན། སརྦ་ཏ་ཐཱ་ག་ཏ། བཛྲ་མཱ་མེ་མུཉྩ། བཛྲཱ་བྷ་ཝ། མ་ཧཱ་ས་མ་ཡ་སཏྭ་ཨཱཿ ཧཱུྃ་ཕཊ།
om benza sato samaya manu palaya benza sato té nopa tishta dridho mé bhava sutokhayo mé bhava supokhayo mé bhava anurakto mé bhava sarva siddhi mé prayatsa sarva karma sutsa mé tsittam shré yah kuru hung ha ha ha ha ho bhagavan sarva tathagata benza ma mé muntsa badzra bhava maha samayasato ah hung pé
Listen to The Hundred Syllable Mantra of Vajrasattva:
See in Vajrasattva Figures