Guru Rinpoche གུ་རུ་རིན་པོ་ཆེ། (the Precious Guru), also known as Guru Padmasambhava པདྨ་འབྱུང་གནས། (Lotus born), is a seminal figure in Buddhism, instrumental in the establishment of Vajrayana Buddhism in Tibet in the 8th Century CE. Praying to Guru Rinpoche is believed to help in the development of inner power, and the removal of bad karma and suffering.
In the Guru Rinpoche thangka Guru Rinpoche sits with his feet in the royal posture. He wears the white undergarments of a bodhisattva, on top of this a red robe, a blue mantra practitioner's tunic, a red monastic shawl and the maroon cloak of a king. On his head he wears a lotus hat which has: three points symbolising the three kayas; a sun and a moon symbolising skilful means and wisdom; a vajra top to symbolise unshakeable samadhi; and a vulture's feather to represent the realisation of the highest view.
 In his right hand he holds a five-pronged Vajra. His left-hand rests in a gesture of equanimity, holding a kapala (skull-cup) overflowing with nectar, in this is contained the vase of longevity which is also filled with the nectar of deathless wisdom and topped by a wish-fulfilling tree. Cradled in his left arm is a three-pointed trident- it's three points symbolise essence, nature and compassionate energy. Below this are three severed heads symbolising the dharmakaya (body of essence), sambhogakaya (body of enjoyment) and nirmanakaya (body of transformation).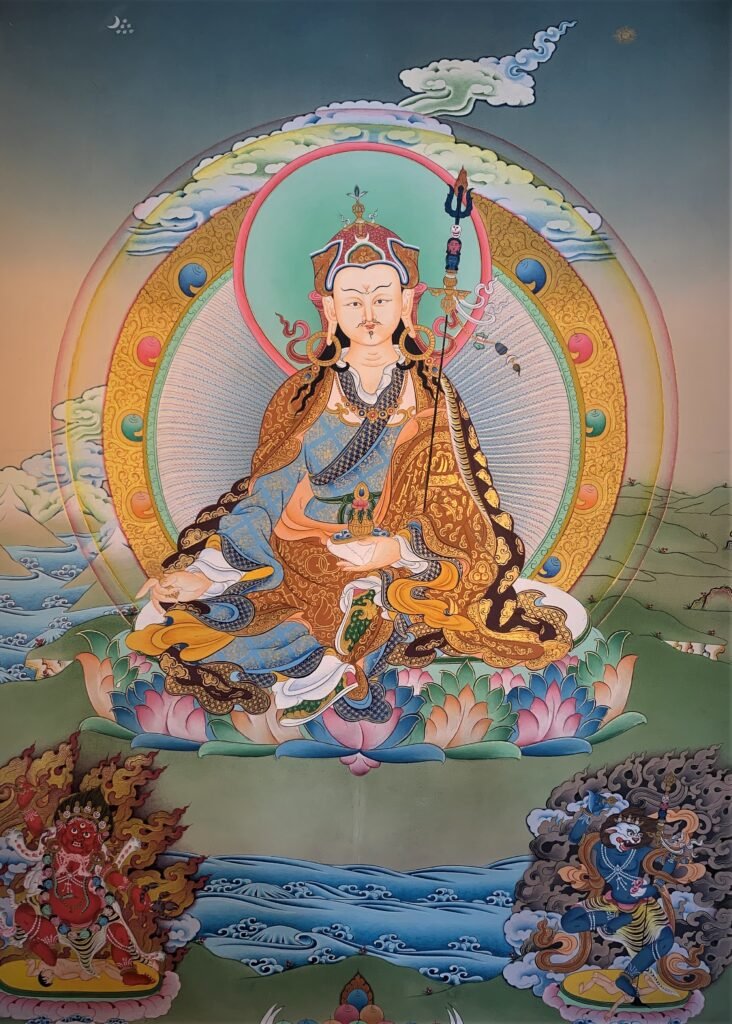 Guru Rinpoche is believed to have appeared in fully enlightened form from a blossoming lotus aged 8 years old. Upon appearance he is said to have announced that he had incarnated to "accomplish the actions of the Buddhas of the past, present and future'.
Vajrayana, the ritualistic path of Buddhism disappeared in India between the 8th and 13th centuries, however, it was kept alive in Tibet by Guru Rinpoche, and continues to flourish. For this reason, Guru Rinpoche is also known as the 'Second Buddha' and is revered by followers of Vajrayana Buddhism as both Amitabha (he who is infinite) and Avalokiteshvara (the embodiment of all buddhas).
The Guru Rinpoche mantra is: oṃ āḥ hūṃ vajra guru padma siddhi hūṃ. Listen to the mantra:
Listen to "Dusum Sangya", a buddhist prayer to Guru Rinpoche, by Ani Choying Drolma:
See more about Padmasambhava