Arizona is a place that sees thousands of tourists every year, with many of them touching down for spiritual reasons such as healing, prayers, meditation, spiritual quests, and retreats. The region is popularly known for its unique and subtle energetic aura, whirlwinds, and modern day activities, and of course, the presence of two spiritual destinations including the Chapel of the Holy Cross and the Amitabha Stupa.
Regardless of whether you are visiting Sedona, Arizona for spiritual purposes or not, a visit to the striking Amitabha Stupa is strongly recommended. Those who have visited this destination say that there is something really special and unique about it; something that no other present-day locale or spiritual center has. 
Visitors have been congregating at Sedona's Amitabha Stupa for prayers, meditation, healing purposes, or even only as a tourist site since the year 2004. Some have even started calling the stupa as Sedona's latest vortex. The stupa sits splendidly between the pinion and juniper pines, straight under the Thunder Mountain and Chimney Rock in West Sedona. It is genuinely a jewel to behold.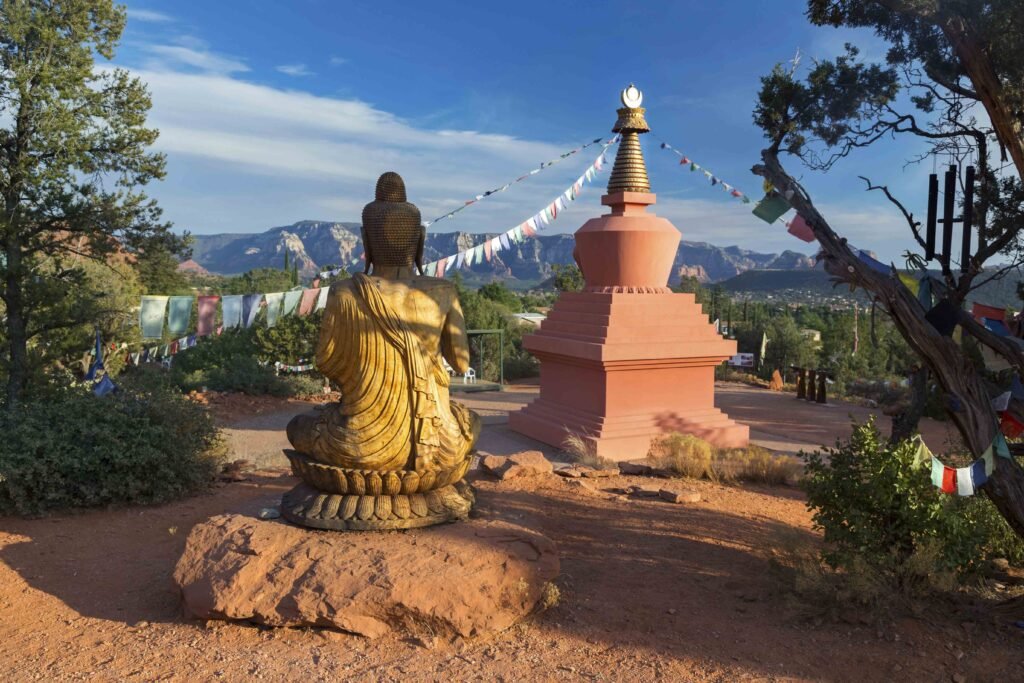 The construction of Amitabha Stupa was started by a Jetsunma Ahon Lhamo, the spiritual director of a Tibetan Buddhist organization and temple in Poolesville Maryland named Kunzang Palyul Choling.
It is located exactly at the base of the Thunder Mountain overseeing Sedona, Arizona. It is situated on the Pueblo Road, right in the center of West Sedona. Turn north on Andante Road beside Circle K store on Highway 89A and then turn left on Pueblo Road to reach the gate of the stupa. The stupa allows for a place spread over 14 acres where people from all faiths can come to spiritually renew their faiths.
The 36-foot tall stupa was named after the Buddha of Limitless Light. It was built and presented as a gift to the world and the Buddhist community in hopes of providing a spot for spiritual refuge for generations to come.
Visiting the Amitabha Stupa
The Amitabha Stupa in Sedona is a free-of-charge destination for the public. It is open from sunrise to sunset. The caretakers accept donations openheartedly and whatever they receive is used for care and maintenance of the stupa. You will be able to spot donation boxes in and around the stupa.