Jetavanaramaya Stupa is located in the world heritage ancient city of Anuradhapura in Sri Lanka. Taking up an expansive 5.6 hectares just by the watawandana road, it provides a magnificent view to all those pass by.
The Jetavanaramaya is a Buddhist stupa and at 122 meters (400 feet) is ranked as the world's tallest stupa and the third tallest structure back when it was originally built almost 1700 years ago. It is believed to have been built at the site where the last rights of Hinda Maha Thero were performed. Hinda, a revered figure in Sri Lankan history, is the monk who first brought Buddhism to the island.
History and Significance
Its foundations are believed to have been laid by the Mahasena of Anuradhapura who died before seeing the magnificent structure become a reality. His son, Maghavanna, then took up the cause and saw it through to completion.
The structure has immense significance in Sri Lankan history for two reasons:
1. An Engineering Masterpiece
The construction of the structure was a significant development in Sri Lankan history for the engineering marvel that it was. The building of the largest stupa and the third largest structure in the world marked a new era in the Sri Lankan history. It was no mean task for the technology available at the time. With 8.5 meters deep foundations, the structure required bricks that could withstand a load of 166kg.
The bricks composed of 60% fine sand and 35% clay, were a significant leap in the Sri Lankan architecture. Going forward, the perfectly structured ellipsoid of the dome made of full bricks, half bricks and earth fill, made such a large structure possible.
Elephants, with their feet cased in leather, were used to crush the stones and bricks and fill the fissures in the base. It took about 5 years and the labor and intelligence of hundreds of skilful workers for the stupa to take its final form that we see today.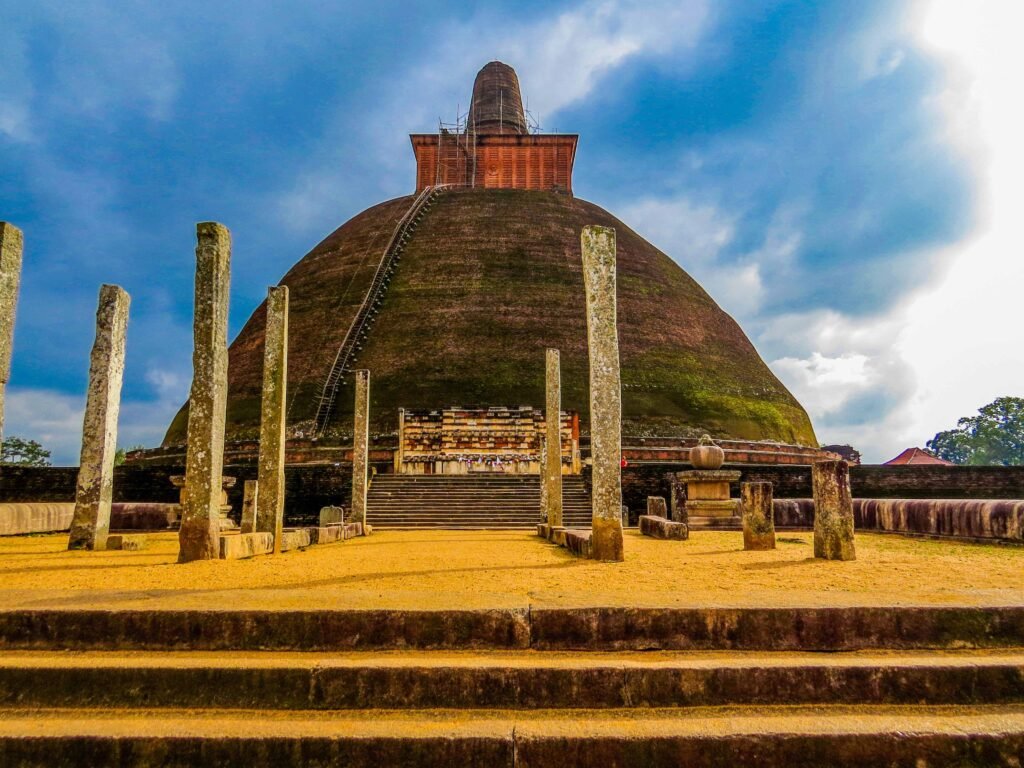 2. Religious Significance
Relics that reside in the stupa are believed to include a belt worn by Gautama Buddha himself. This also represents the conflict between Theravada and Mahayana sects and is sacred to adherents of both the sects.
Visiting Guide
For backpackers and history buffs, the Jetavanarmaya Stupa will definitely figure somewhere on the top of their "go to" list when in Sri Lanka. So let's walk you through a brief guide.
As you must remove your shoes to enter, makes sure you visit this stupa on a cloudy day, when the sun is not too bright. Otherwise, walking in and around the hot structure will be problematic. The surface can get too hot to walk on. Also, it's best if you keep a pair of socks with you.