Also known as Peace Pagda or Peace Pagoda, the Shanti Stupa of Dhauli Giri is a one-of-a-kind stupa near Bhubaneswar in India.
The Location
The stupa is clearly seen on the right of the Dhauli Hills after passing the Daya River Bridge on the roads between Bhubaneswar and Puri or Konarak. From this bridge on Puri or Jagatnath Road, the travel distance up to the Shanti Stupa is 3 kilometers.
The closest railway station from the locale is in Bhubaneswar, from where Dhauli is only 10 kilometers away. If you are using air transportation to reach the destination, you will land at Bhubaneswar airport. The stupa lies 12 kilometers away from the airport. This implies that the shortest distance between Bhubaneswar and Dhauli is through Puri Jagatnath Road, estimated to be 3 kilometers only.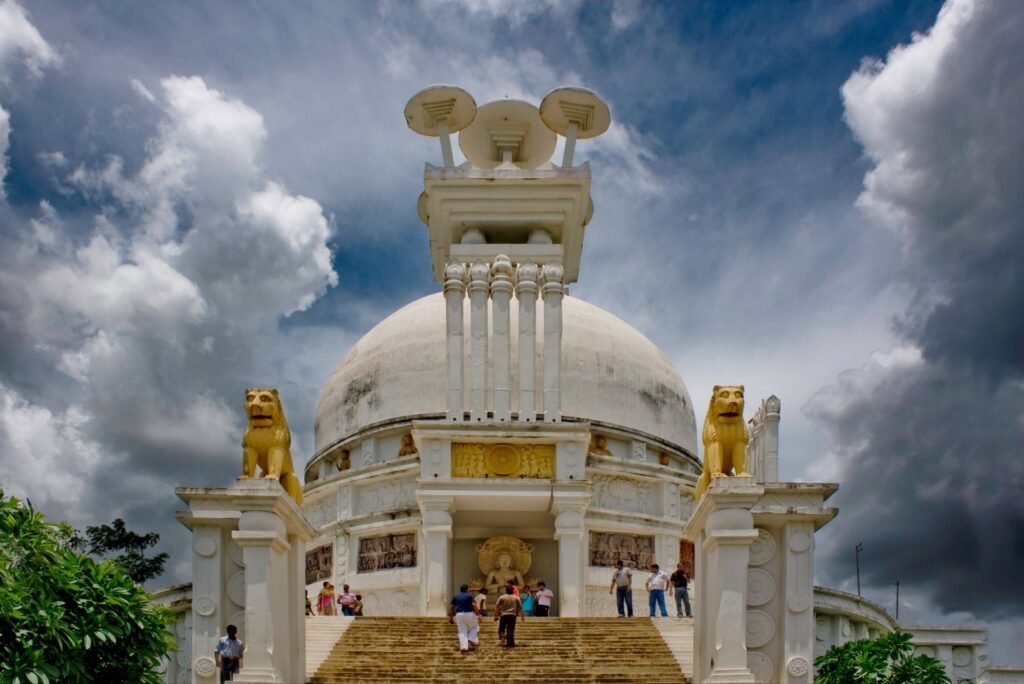 Background
In literal terms, the word 'shanti' means peace and harmony. King Ashoka, who embraced Buddhism in order to live a life of peace, laid the foundation of Dhauligiri Shanti Stupa on a piece of land recognized as the site which marked the end of Kalinga War. The proclamation of Lord Buddha lies here and is visited by hundreds of Buddhist devotees all through the year.
Shanti Stupa evolved as a place for different generations to worship and pray, mainly because the construction was backed by Fuji Guruji. Upon touching down the Shanti Stupa, you will be able to spot several stupas, chaityas, and pillars that were planned by King Ashoka.
A number of edicts inside clearly display the intentions of King Ashoka to promote happiness and peace all across the world. Among these, there is a rock-cut elephant that is regarded as the oldest Buddhist sculpture in Orissa.
Anatomy of Shanti Stupa
The gorgeous Shanti Stupa is a dome-shaped structure that has the footprints of Buddha and the Bodhi tree ornamented over it's the stone panels. You can also easily spot the image of Ashoka right above these panels. The image displays King Ashoka with his sword kept in front of Lord Buddha, signifying that he had reformed and left behind his desire for conquest.
In the same locality, there is a monastery named Saddharma Vihar Monastery that is also regularly visited by Buddhist followers. Apart from this, there is the temple of Dhavaleshwar. This temple was renovated in the year 1972 and is visited by both Hindu and Buddhist visitors. So, Shanti Stupa is not the only striking monument you get to visit when visiting Dhauli Giri. There are several sacred tourist attractions around it that further cement the significance of this location and warrant a visit.