Thirty six meters high and one of the largest stupas in Asia, the Bouddhanath Stupa (or Boudha stupa) was first constructed around the 5th century. For centuries, the stupa has held an important place as a spiritual site for Tibetan and Nepali Buddhists. Moreover, it has been frequented by the merchants as a resting place since it is located on the historical trade route that connects the Nepal and Tibet regions.
Since 1979, it has been accorded the status of a world heritage site by UNESCO as it is one of the oldest scared architectural structures.
Location
The Boudha Stupa sits some 11 km outside of the center of Katmandu district, at the traditional trade route between Tibet and Nepal regions. Despite being located on the outskirts, it has established itself as the focal point of the district and dominates the skyline.
The Legend of Bouddhanath
A Contested History
Now there are fascinating and conflicting theories regarding the origins of the Bouddhanath Stupa, one proposed by the Newar (inhabitants of the ancient Katmandu valley) and the other by Tibetans.
The Newar Version
In the Newar language, it is referred to as khasti chaitya. The earliest references to khasti chaitya can be found in the chronicles of Newar, which dates it back to the reign of Licchavi King, Vikramjit (400 A.D).
As the legend goes, Vikramjit ordered a "hiti" (a community water spout) be made in his courtyard but to his dismay, there was no sign of water. He consulted his astrologers, who recommended that he offer a sacrifice of a male with 32 perfections. Only the king himself and the two princes could qualify to these peculiar requirements, so the king decided to sacrifice himself.
He tricked his son into taking his life as he instructed him to sacrifice a man who'd be sleeping with his face covered. His son, consumed by sorrow and remorse after murdering his own father, went to the priests who suggested him to release a "flying hen" off the top of a mountain for salvation. It is the spot where the hen landed, which is said to be the location of the Bouddhanath Stupa.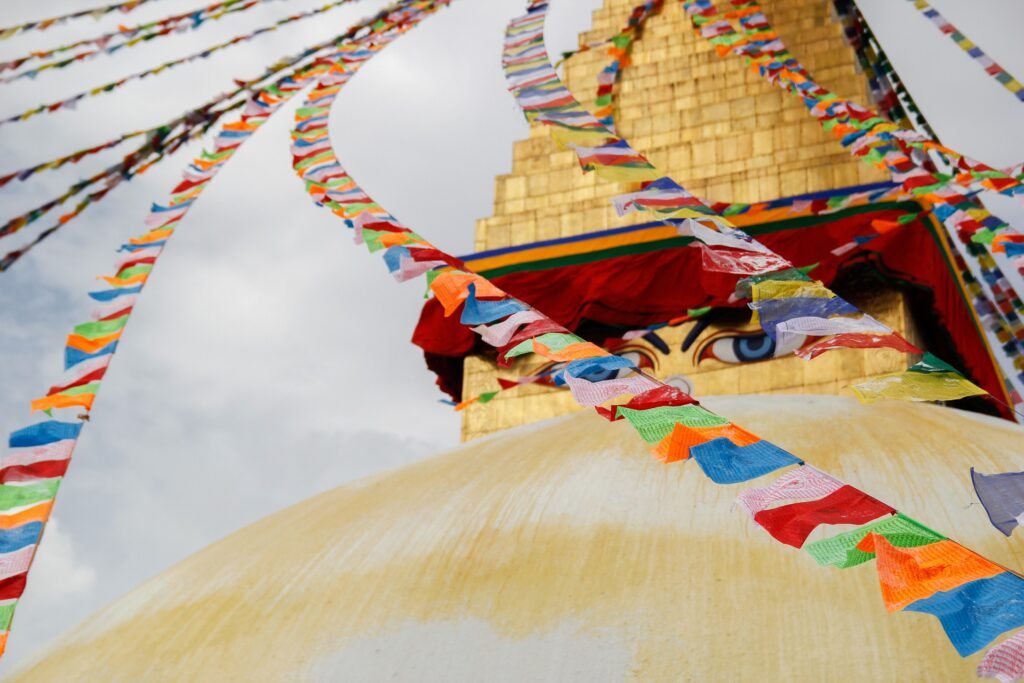 The Tibetan Version
The Tibetan version that came to limelight later, credits the building of the stupa to an old poultry farmer. According to the legend, the lady farmer requested the king for a tract of land along with the permission to build a monastery for Buddha. The king granted her the permission and agreed to provide the land. But there was a caveat, she could get only as much land as she could cover with the skin of a buffalo. The woman intelligently cut the hide into thin strips and then used it to form a circumference that covered the huge area where the Bouddhanath Stupa stands on today.
The conflicted history shrouds the origins of this world heritage site in mystery and makes it that even more fascinating. See rare old pictures of Bouddhanath Stupa.